Social media networks provide excellent opportunities, however as there are so many choices, it has become difficult to decipher which offers the best benefits.
Consider this:
• 93% of online users have a Facebook account, and nearly 75% of business owners say Facebook has been an important factor in their lead generation
• Twitter has 650 million users registered on their platform, and there are 190+ million unique monthly visits to the platform
• The leader in B2B business, LinkedIn, boasts 500+ million members, and company pages have hit the 4 million mark.
Choosing a Social Media Platform
Still, each platform uses various forms of communication and you'll find different types of content and activities. Some attract a younger audience, others, like LinkedIn attract professionals for networking purposes. Then there are those that are used by a professional audience and that are frequented by more women than men. But when choosing which social media can become more advantageous, keep in mind, it is better to have an excellent presence in one or two channels to be mediocre at five or six.
Creating a Sensation
Who can forget Isaiah Mustafa in a towel with his Old Spice? Procter & Gamble's Old Spice was simply another product, geared towards men with an entertaining spokesman until Proctor & Gamble's advertising agency, Wieden and Kennedy, contracted Isaiah Mustafa to assume the role. Mustafa invited fans to a Q&A via Twitter and Facebook; questions poured in about Old Spice, and even celebrities threw in a few questions. The "New" Old Spice man, Mustafa created a viral sensation with more than 180 online videos created within a few days.
Ambitious marketers eagerly seek clever ways to entice and engage online consumers. A social media strategy that utilizes interactive, compelling promotions will entice audiences, making them want to share what they read.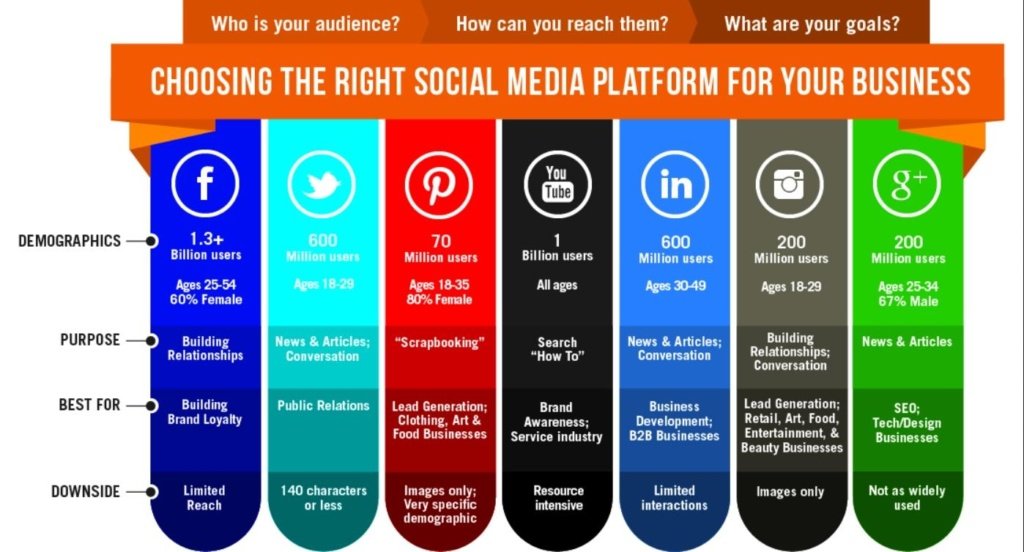 Facebook
This platform is by far the largest social media network, with an estimated 1.9 billion people who use it each month, 965 million active users each day and generates up to 645 million views on local business pages each week. Undoubtedly, Facebook is at the top of the heap, but is it the right platform for you? Absolutely, but to be effective you must spark conversations.
• 95% of the more engaging Facebook posts include images
• The best audience engagements occur at the end of the week (Wednesday-Saturday)Posts that include questions, rather than everyday text-based postings get 97% more comments.
With so many potential customers, creating a business page is a must, but remember, if you use Facebook, it should be updated daily.
Twitter
Twitter is the ultimate chat-box. If you're looking to get your point across and encourage short creative social commentary, then this #hashtag loving platform is a way to connect with an estimated 650 million active users per month. You may think that 140 characters are a limiting factor , but if you use them correctly, you'll get great rewards. Twitter has proven effective as a platform for the latest news and important events, and a little investment of your time can quickly gain popularity.
LinkedIn
LinkedIn is the largest network of social media for business owners and professionals. With 500+ members, and 4+ million company pages, this platform has a more formal vibe. One of the most powerful benefits of this network are the "LinkedIn Groups", which provide a place for like-minded professionals in the same industry or with similar interests to share trending news and insights. Businesses can initiate and participate in discussions, share content, find answers, and collaborate on upcoming projects. More importantly, there are millions of industry experts and business contacts that are waiting to establish a B2B relationship that could be advantageous to everyone.
If you're relatively new to social media, and still on the fence about which platform to devote most of your time to, the good news is that you can switch up your strategy in an instant. Whether it's Facebook, Twitter, LinkedIn, or any of the other 100 leading social media platforms, the power of the platforms are only limited by your time and effort.